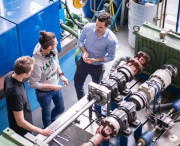 Test facility
Simulation and calculation require validation – component testing provides safety

Our test facility is the heart of our experimental research.
We support our industry partners in product validation.
---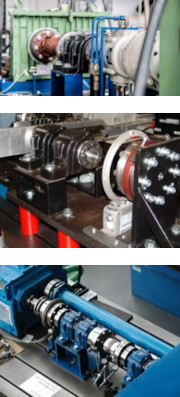 Test setups
Wide range of options for component testing
Overload tests
Long-term tests
Tailored test setups possible
Tension test benches
Stationary testing of elements and systems of drive technology, such as flanges, couplings, brakes
Transient testing of elements and systems of drive technology, such as flanges, couplings, brakes
Torque control adjustable
Clutch test bench
Recording of static and dynamic characteristic curves on torsionally flexible couplings
Measurement of coupling parameters
Excitation frequency and amplitude continuously variable during operation
Engine test benches
Component testing of clutches and other elements of the powertrain
Engine testing
---

Materials and Tribology Laboratory
Development of sustainable and resilient materials
Mechanical characterization
Tribological investigations on novel materials, lubricants or coatings
Air-conditioned test room for constant test conditions
Individual and combined tests
Zwick tensile testing machine
Tensile, compression and flexure tests to standard up to 100kN
Optional extensiometer for exact strain rate determination for small deformations
Individual fixtures by arrangement for any material and component tests
Hardness testing of a wide range of materials
Zwick Roell DuraJet G5
Automated measurement to Rockwell HRC with planar and prism support
Standard-compliant testing of Super Rockwell and Rockwell as well as plastics testing to EN ISO and carbon testing to DIN
Standard based testing according to Vickers and Brinell possible
Plastics testing with Shore A and Shore C
Tribometer
Pin-disc tribometer "MT-1": Robust metal self-construction of the chair
Pin-on-disk or ball-on-disk configuration with continuous and oscillating glide
Fully customizable evaluation of friction coefficients etc.
Optimally customizable for a wide range of applications
Surface and wear characterization
MahrSurf PS 10 stylus instrument for automated surface evaluation
Optical evaluation
Further equipment
Typical sample preparation and post-processing (cleaning, polishing, etc.)
Density measurement
---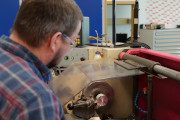 Workshop
flexibility and expertise
Our workshop quickly carries out adaptations to test setups, professionally converts test benches and creates complete test benches.
CNC drilling and milling machining centre
Lathe
Column drilling machine
Hand welding equipment
Sandblasting plant
Extensive equipment of tools and measuring instruments
Extensive stock for semi-finished products and test adapters
---